Prologis Buildings, A Story of Sustainability
Our enduring commitment to sustainability means creating industry-leading, energy-efficient buildings that cost less to operate, so you save money.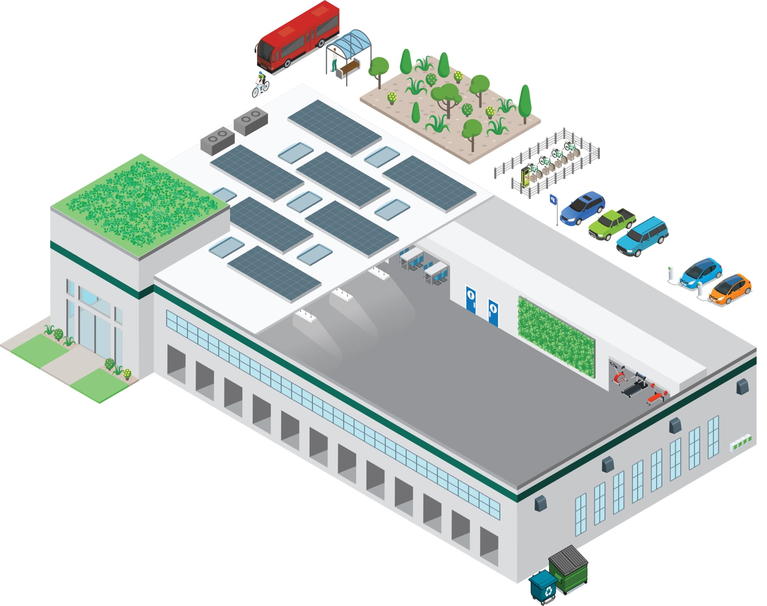 Low-emission, energy-efficient HVAC
Reduce output when building is unoccupied
Cool roofs
Reflect sunlight and repel heat, lowering indoor air temperatures
High-efficiency roofing and wall materials
Optimize interior temperatures
20–30% regionally sourced building materials
Reduce transportation emissions and boost local economies. Use of bio-based circular building materials.
Real-time energy monitoring
Inform employees and create awareness
Skylights
Reduce daytime electricity use
Solar panels
Turn rooftops into sources of clean energy
LED lighting with dynamic controls
Improve illumination and reduce energy costs
Energy-saving mode of dock equipment
Preserve energy when not in use
Dock levelers with gap sealing and dock shelters with bottom cushion
Seal interior to the elements
Areas for storage and collection of recyclables
Minimize environmental impact
Low-emitting paint, sealants and insulation
Lower environmental impact than conventional paint products
Smart energy meters
Monitor energy in real time to reduce energy expenditures
Exterior LED lighting
Reduce light pollution and energy costs
Electric vehicle (EV) charging stations
Reduce emissions for daily commuters
Carpool/car-sharing dedicated parking spots
Secured bicycle shed with e-bike charging
Drought-tolerant plants and rainwater collection
Decrease water usage, reproduce local ecosystems and support biodiversity with insect hotels, bird houses, edible trees and greenery
Access to public transportation options
Public transport, shuttles, bicycle rental and car sharing
Sustainable Design Features & Benefits
Our logistics real estate facilities integrate geographically relevant, sustainable design features, including:
| FEATURES | BENEFITS |
| --- | --- |
| Skylights and clerestory windows | Using natural light lowers electricity use and associated greenhouse gas emissions, and improves indoor environmental quality for warehouse personnel. |
| High-reflectance roof membranes | Traditionally, warehouses have black ethylene propylene diene terpolymer (EPDM) rubber roofing membranes that absorb heat from sunlight. White thermoplastic polyolefin (TPO) roofing, also known as "cool roofs," offers equal performance at essentially the same cost, while reducing the urban heat island effect and often providing a more comfortable work environment. They can also lower operating costs by reducing energy use in air-conditioned spaces. |
| Bicycle, hybrid and carpool vehicle parking | Offering parking for alternative modes of transportation encourages lifestyle choices that reduce carbon emissions and promote health and well-being. |
| Recycled and locally sourced construction materials | Using recycled concrete, steel, asphalt and other materials in new warehouse construction delivers significant environmental benefits, including minimizing transportation-related greenhouse gas emissions and diverting a large percentage of construction waste from the landfill. |
| Area for onsite recycling | Supporting customer recycling efforts helps reduce landfill waste and use of virgin resources. |
| Energy-efficient lighting systems | Warehouses traditionally use metal halide lighting, but most of our portfolio uses energy-efficient fluorescent and LED lighting technology, often including occupancy- and light-sensing controls to further reduce electricity consumption. |
| Water conservation measures | Exterior landscaping, motion-activated faucets, low-flow toilets, waterless urinals and captured rainwater for irrigation all reduce the use of fresh water. |
| Low-emitting sealants, adhesives and carpet systems | Compounds and chemicals with non-petroleum bases conserve nonrenewable resources and improve air quality for a healthier working environment. |
| Solar, storage and wind power | Industrial warehouses are viable candidates for alternative energy systems, especially photovoltaic solar cells and battery storage. |
Prologis Energy
We manage energy projects across the logistics real estate industry, including renewable energy, energy efficiency, clean energy and energy storage. Our project managers are skilled at finding ways to reduce costs, increase sustainability and generate revenue while meeting geographically appropriate sustainability standards and securing sustainable building certifications.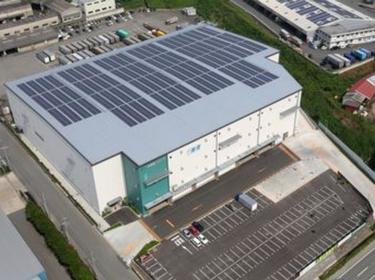 Prologis Japan's Feed-In Tariff Solar Program
Japan's 2009 pilot solar project was a 1 megawatt (MW) rooftop installation in Tokyo. In 2012, when the Japanese government initiated a national feed-in tariff program to encourage solar adoption, Prologis was an early mover in securing opportunities to participate in the program and deliver clean energy to the electric grid. Launched in 2013, a four-phase project at sites in and around Tokyo, Osaka, Nagoya Fukuoka and Tohoku has been successful and continues into 2017. As of year end 2016, Prologis' solar portfolio in Japan totals nearly 32 MW across 25 warehouses.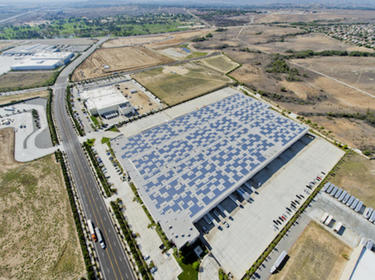 Kona Solar
Prologis partnered with Bright Plain Renewables and D.E. Shaw Renewable Investments to design and build solar plants at Prologis-owned warehouses in Southern California. The three sustainably designed warehouses—in Ontario, Riverside and Rancho Cucamonga—total over 1.3 million square feet. At nearly 6.2 megawatts, the project produces an estimated 9.8 million kilowatt hours per year. D.E. Shaw is the long-term owner of the installations, leasing roof space from Prologis, which owns the warehouse. D.E. Shaw sells the energy produced to Southern California Edison through its solar photovoltaic program.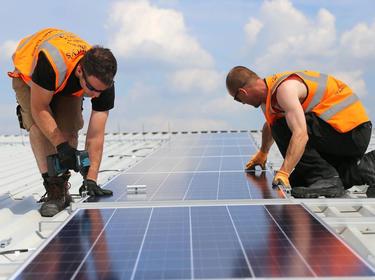 UK Rooftop Solar
ln 2014, as part of a larger effort to incorporate sustainable design features into our warehouses, Prologis UK made its initial investment in rooftop solar on a build-to-suit project for Amazon. Subsequently, in partnership with a wider range of customers, Prologis UK has added over 5 megawatts of solar to its warehouse portfolio. The Prologis UK team chose four sites in Northampton, Dunstable and Brogborough for rooftop solar, designed to offset 10 percent of the facilities' electrical consumption and produce over 600 kW/m2 of clean energy per year. Two of these rooftop solar projects were completed in 2016, and two are under construction.